Scroll down for timestamps and recording.
Last month KCL and the LSF held a partnership kick-off event at
The Institute of Psychiatry, Psychology & Neuroscience (IoPPN)
1
. King's College is our very first academic partner, and we are excited to join forces in our pursuit of a longer and healthier human lifespan. Through our collaboration with
Ageing Research at King's (ARK)
2
, we aim to promote research and education that fall at the nexus of psychological well-being, longevity, and psychedelics.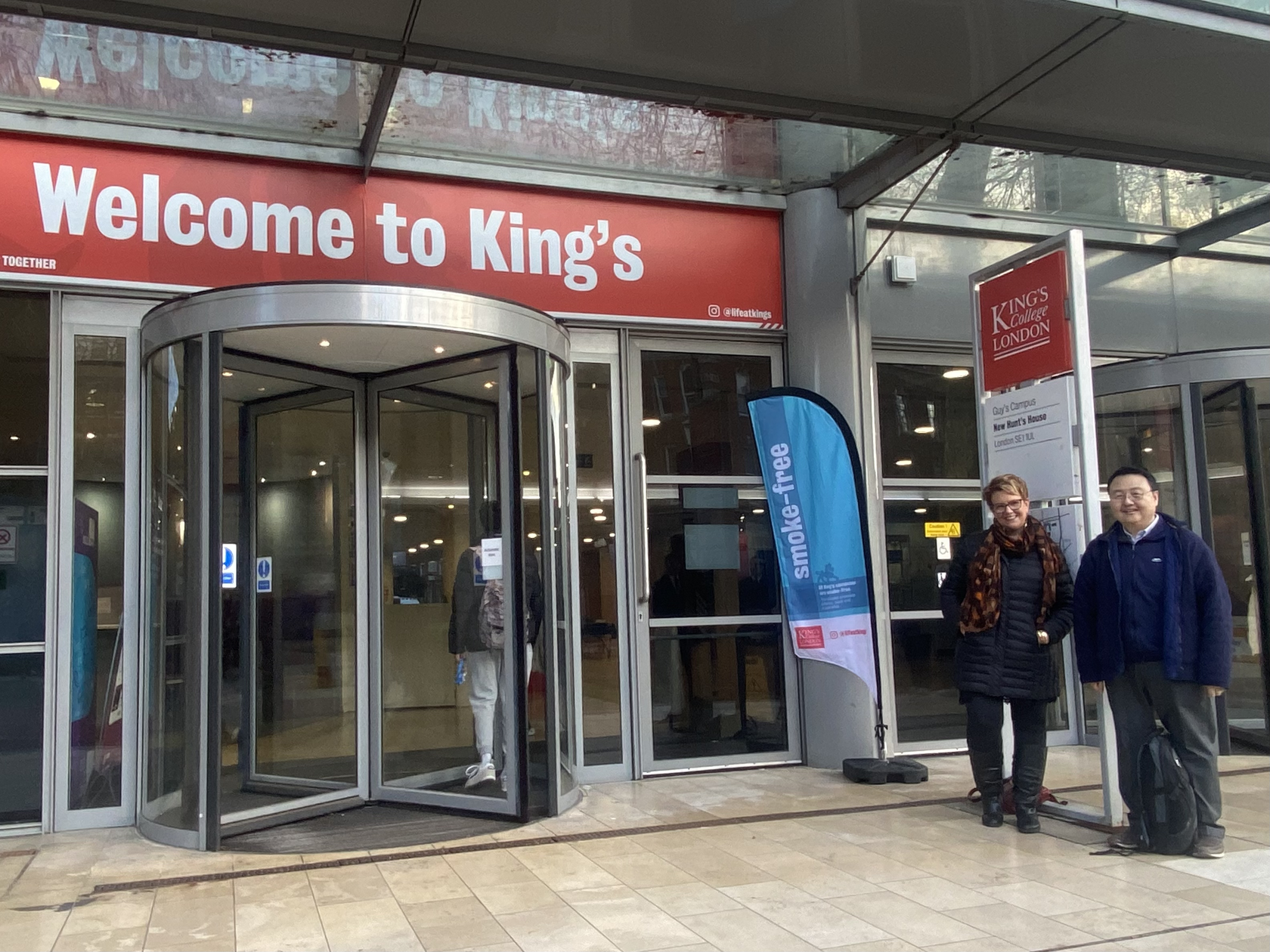 Lisa E. Ireland of the Longevity Science Foundation and Dr. Richard Siow of Ageing Research at King's (ARK) at Guy's Campus in London
Psychological well-being is one of the critical determinants of human longevity. Together with KCL, we will promote novel ways of targeting complex and treatment-resistant conditions through the application of psychedelics.
To learn more about our initiative, we encourage you check out the recent
Longevity Technology article
covering our partnership and the kick-off event.
Left to right: Dr. Richard Siow, Dr. Allan Young, Prof Guy Goodwin, Lisa E. Ireland, Catherine Bird and Prof Dag Aarsland
The recording features talks from our President and CEO, Lisa E. Ireland, Prof. Allan Young, Prof. Dag Aarsland and Dr. Guy Goodwin of COMPASS Pathways. You can find the timestamps and the speakers with their corresponding topics below:

0.00 Dr. Richard Siow - Welcome and brief introduction to ARK
10:10 Lisa Ireland - Longevity, Psychological Well-Being and Psychedelics
32:37 Prof. Allan Young - Centre for Mental Health Research and Innovation
58:48 Dr. Guy Goodwin - The KCL - COMPASS Pathways Partnership
1:33:22 Prof. Dag Aarsland - Longevity Interventions and Monitoring Cognitive Health
1:55:57 Panel Discussion moderated by Dr. Siow
2:30:10 Closing Remarks by Dr. Siow and Prof. Young
As always, if you wish to inquire about a research grant, a potential collaboration, a donation or any other matter, do no hesitate to email us at
inquiries@longevity.foundation
.
_
The Institute of Psychiatry, Psychology & Neuroscience (IoPPN), part of ARK, is ranked second in the world for psychology and psychiatry (US News, Best Global Universities) and is one of the world's largest centres for neuroscience research.
Ageing Research at King's (ARK) is an educational consortium at KCL conducting industry-leading research on therapeutics, diagnostics, the social impact of ageing and more. The LSF will join the ARK in spearheading a new body of research and educational efforts around ageing, psychedelics and mental health treatments.