From 29 August - 2 September, the Longevity Science Foundation had the pleasure of attending the 9th annual Aging Research & Drug Discovery Meeting, held in Copenhagen, Denmark. The ARDD is one of the longevity space's leading events and gathers longevity physicians, investors, researchers, enthusiasts and more.


Panels with Leading Researchers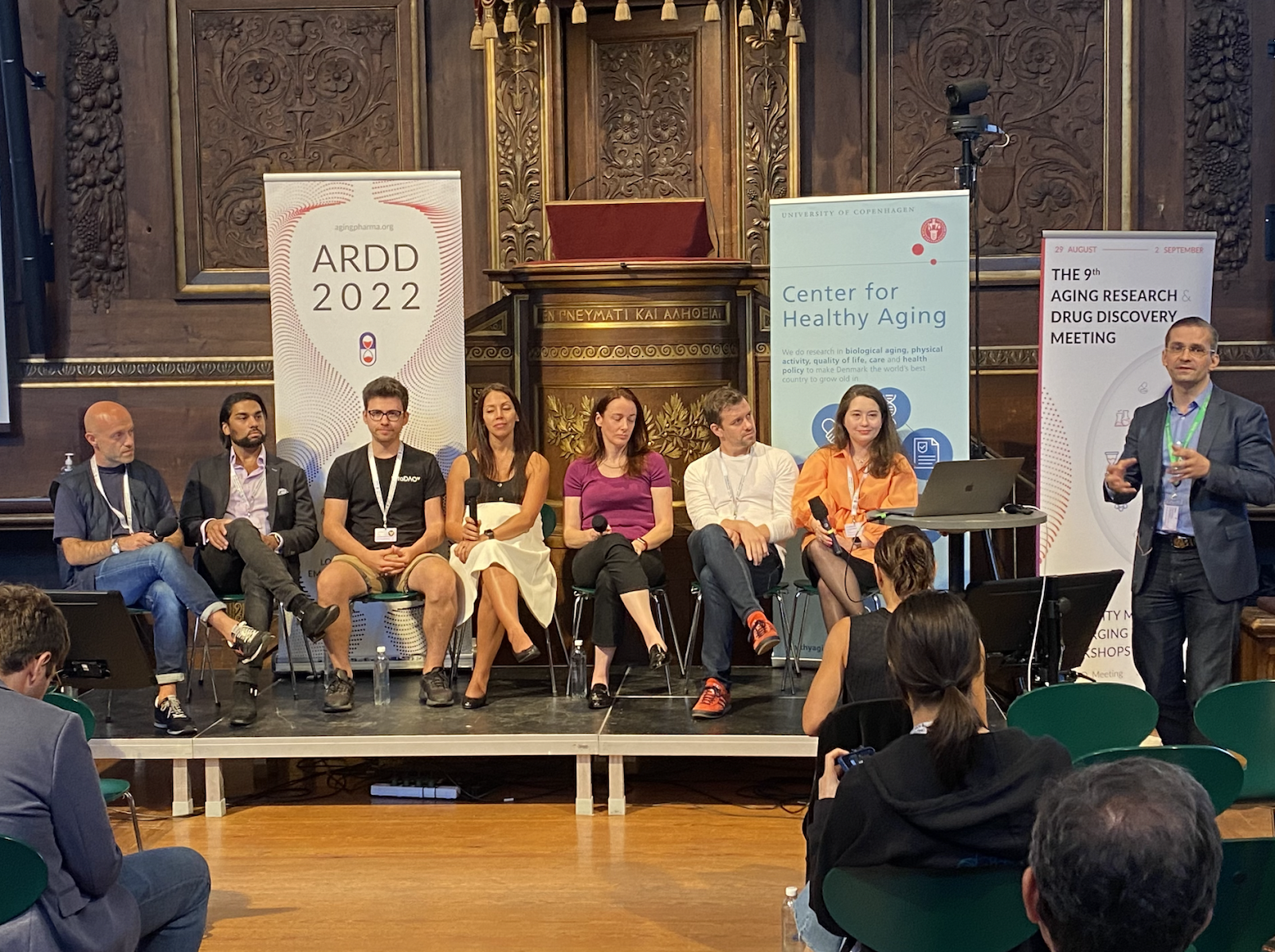 The highlight of the event was the presentation of new research and initiatives from experts across the longevity space. Gathering the brightest minds from the sector led to five days of incredible knowledge sharing, community building and networking.

As part of the programming, our Executive Coordinator, Garri Zmudze, presented the Longevity Science Foundation to an audience of more than 100 attendees. He emphasised the importance of funding early-stage research to support groundbreaking projects in longevity and shared more about the new NFT collection that will help power this research funding.

Garri also spoke on two panels exploring topics related to our work at the Longevity Science Foundation. He represented LongeVC, a visionary biotech and longevity venture capital firm, on a panel dedicated to VCs and startups in the longevity space with speakers from VitaDAO, Cambrian Bio, BioAge, Insilico Medicine, Evolution Foundation, Haut AI and Apollo Health. The panellists explored the role of funding for longevity science and why it is vital to encourage developing treatments.

Garri also spoke on a panel exploring the growing role of decentralised science (DeSci) with speakers from VitaDAO Lifespan.IO and Healthspan Capital. DeSci allows more individuals to join the longevity community and have a say in the direction of longevity research. The Foundation enables this with its token-based voting system; wherein all donors receive voting rights for LSF funding decisions. Several LSF Visionary Board Members also led and joined presentations, with topics ranging from translating science to clinical research and AI-powered longevity medicine development.


Announcing Healthy Longevity Medicine Society

An exciting announcement made at ARDD was the launch of the Healthy Longevity Medicine Society. LSF Visionary Board Member Dr. Andrea Maier introduced the new organisation on day one of the event. LSF Visionary Board Chair Dr. Evelyne Bischof will join the HLMS as Vice President, along with council members Nir Barzilai, Thomas Rando, James Kirkland and Harold Pincus. Our Executive Coordinator Garri Zmudze will also serve as an advisor to this new society.

You can read more about the Longevity Medicine Society on its website here.


An Unprecedented Commitment to Longevity Research: The Longevity Pledge

Our Visionary Board Member Alex Zhavoronkov presented another highlight of the event: a new initiative he is spearheading called the "Longevity Pledge." As part of the pledge, Alex has promised to commit his life to extend healthy and productive longevity for all humans. He will focus on five areas of interest within the longevity field: platforms for drug discovery and development, AI-powered ageing clocks, personalised medicine and drug discovery, AI and robotics-driven hospitals and novel approaches in cryobiology and biostasis.

Alex is active in numerous areas across the longevity space. In addition to his work at Insilico Medicine and advising the Foundation, he has also chosen ten initiatives to support with capital and time: longevity biotech education, supporting young scientists in the field, conferences like the ARDD, longevity-focused media and think tanks, promoting international collaboration, government and funding organisations, transitioning more IT professionals to the longevity biotechnology field and inspiration and outreach via non-academic writing publications.

We are tremendously proud to have Alex as a Visionary Board member and look forward to the wave of innovation his pledge will bring. Thank you to all who made ARDD possible, bringing bright ideas from visionary stakeholders in one place. To learn more about longevity and the work we do at the LSF, subscribe to our newsletter.